About
Sign Painting Supply Co. offers a variety of old and new how-to books, pamphlets, and videos for the sign painting trade and culture. We are also home to Flying Squirrel Brush Co. We are a family-owned & run business. Thank you Sign Painters of the world!


How We Started
Around 2012, my sister asked me to teach a sign painting class to her co-workers who were in the graphic design field, building websites and whatnot. I decided to do a small pamphlet on block lettering, and delved as deep as I could into the subject, trying to figure out the origins of the basic letter style referred to by old-timers as "Egyptian". After the class, a few friends wanted copies of the pamphlet, so I obliged and continued my research.

I wanted to learn and share more about other lettering styles that sign painters employ, so I delved into all the sign painting books I had and reached out to fellow sign painters I knew around the globe and requested some photos of their work to pair along with short explanations as well as references that were decades and sometimes more than a century old. I compiled these into my first three booklets, based on block, casual, and script lettering, expounded a bit on the techniques of how to perform the brush strokes, and lightly touched on the principles of layout and skills needed to create signs with proper lettering. These booklets were a good foundation of research, in my mind, though sharply critiqued by veterans of the trade, As time goes on, and I am able to learn from more experienced sign painters, I have been able to see the shortcomings of my early and current self-published zines as professional teaching documents and view them as time stamps of research, and opportunities for myself to improve in the trade.

When I started the third booklet on script lettering, in my research, I came across the booklets and work of Lonnie Tettaton. Before I knew it, I was on the phone with him asking if I could use some of his work to showcase the brush strokes of a common sign painter's script he displayed in his book "Speed Lettering". He obliged and also supplied me with some additional photos, and content from past interviews so that I could do a write-up about him. He had learned in his early years, from E.C. Matthews, a renowned sign painter and world traveller, who had authored several books and pamphlets on the trade of sign painting from the 1920's through the 1960's. Lonnie had eventually taken over the selling of Matthews's remaining stock of books and continued to write on the subject, as well as teach the art and craft of sign painting in St. Louis. He authored several pamphlets and published a number of books on Sign Painting technique and theory, and in him, I found inspiration.

For a several years, I would call Lonnie, or he would call me, and he would ask me what sign jobs I was doing, then tell me about some of the crazy jobs he had done over the years. At this point, Lonnie was hospitalized and had lost his leg after complications from diabetes, and a fall off a ladder painting a sign. Lonnie asked if I would like to buy out his remaining stock of books and carry on this legacy of documenting the trade and supplying students and tradesmen with simple tools to help them improve and expound their craft. I agreed, and soon a few pallets with old cardboard boxes filled with Lonnie's books showed up... about 2000 books total!

It was only a few months later, after inviting Lonnie to create one final show card for an exhibition of sign painters artwork in Santa Ana, that I talked to Lonnie for the last time. The books had been selling well, and he called to ask how the art show went. I let him know that it had a great turnout, and how thankful I was for the contribution of his artwork. He seemed delighted to have been included. I remembered something later, and called back a week or two later, only to get a disconnected message from his phone line. Sure enough, after checking the obituaries, I found out that Lonnie had passed away the week after the show. He had passed on the torch! I continued writing and improving the books, printing the covers on my 1930s Vandercook letterpress, and working hard to improve the content and update the look with each release.

After a few years, I wanted to expand the business and was already importing brushes made by esteemed brush maker Craig Morton of Mason and Sons, who make many of the British Sign Suppliers brushes. I would send books, and they would send me brushes. It was a good trade, and I loved the feel of a pure Kolinsky sable with the British length that had been used for at least the last 100 years.

One weekend, while at a gold leaf gathering in Portland Oregon, I was gilding a large panel with the group, using Dave Smith's Gilding tip, which Craig had been making for quite some time, and while picking up a sheet of gold, and sailing it to the glass to lay down, I looked at how the gold was spread out with the squirrel hair, much like how a flying squirrel would, and the idea came into my mind, how great would the name Flying Squirrel Brush Co. be for a sign painting brush company?! (Especially since, traditionally, most high-quality brushes have used variations of squirrel hair). And the idea sort of stuck in my head.

Then a week or two later, Dave announced that he was going to stop producing his gilders tip, and that is when a number of light bulbs went off. I contacted Dave and asked him for permission to expound on his design and make some modifications and adjustments. He agreed, and all he asked was that I give him due credit for the original idea of the tip. I am indeed grateful for him making his tip! Thanks, Dave! After a few months of working out the details, I came to a place of how to make the current Gilders Smith tip we currently have available, and worked with the brush maker to produce the hair, and I assembled the rest of the tip.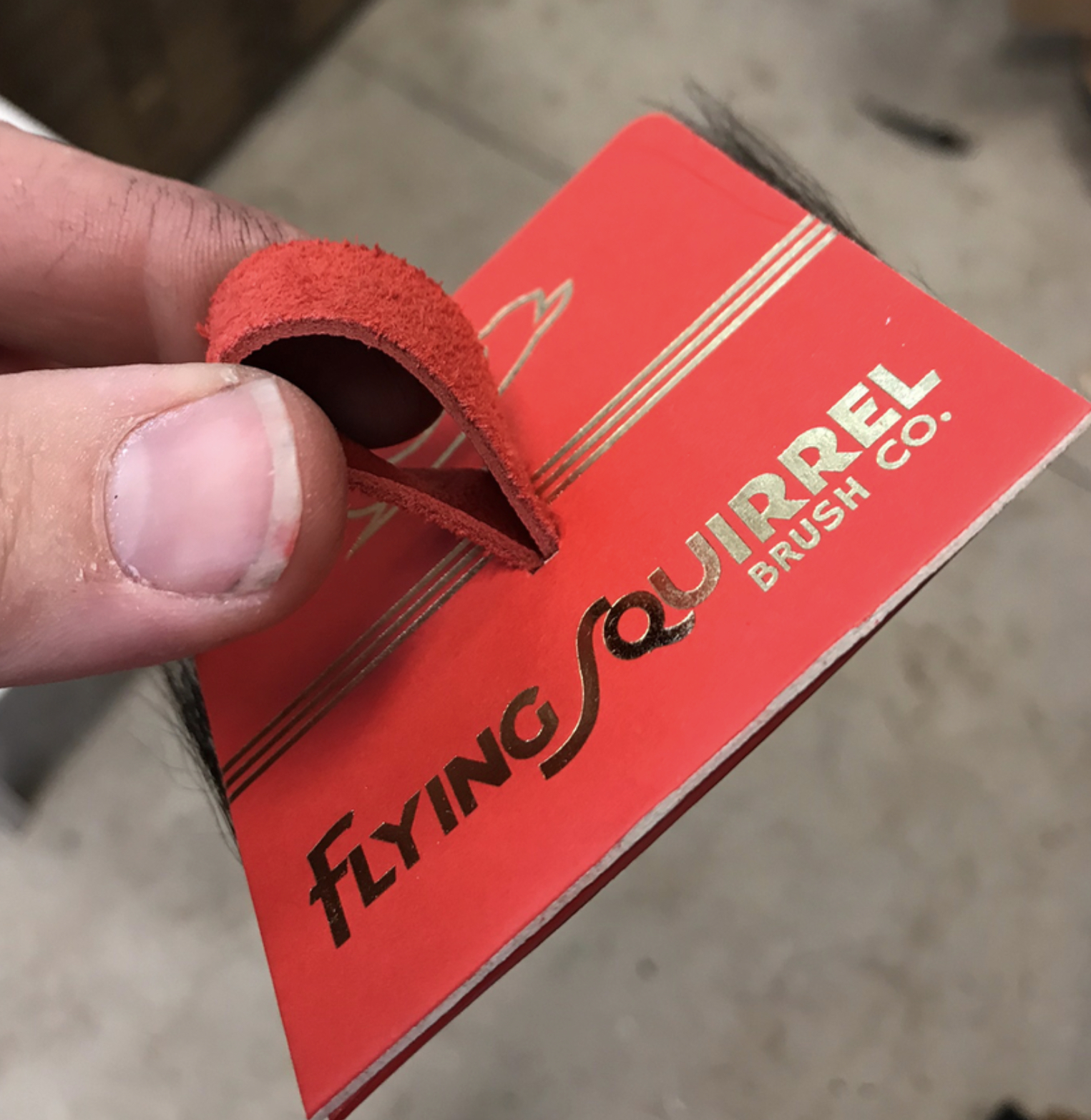 While that was in production, I started working out how I would have the other brushes, and for the last few years, have created the basic brush sets that I feel offer what every sign painter uses the most in the sign kit.

Each year, the plan is to work out new products, focusing on quality, rather than a number of variations, and fine-tuning what we offer to be the best essentials needed for the trade.

Thank you for the support!


Colt Bowden, Owner
Flying Squirrel Brush Co.

2023